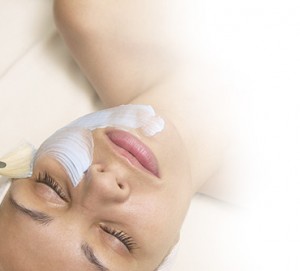 It might be too late to do anything about it, but did you know that this week was (and well, still is until Sunday anyway) Spa Week?  The cool thing about Spa Week…$50 services.  Everything from massages to scrubs, facials to Botox, you name it. It's a great way to try out new spas or services for small investment.  I try to take advantage of it every year.
Me, I decided to go for a facial at one of my favorite LA spas, Skin Haven over on Crescent Heights in West Hollywood.  Now, in full disclosure mode, I met the owner, Sharōn Ronen a year or so ago through the Ladies Who Launch gals.  And well, since then, she's written a couple articles for my site.  But that doesn't make her spa any less amazing.
So yesterday, after class, I headed over the hill for my moment of blissdom.  I was exhausted and just knew that I'd fall asleep during  the treatment, and believe or not, that's perfectly acceptable.  Turns out I didn't though as Sharōn and I were talking shop through the whole thing.  I was amazed to realize just how quickly time flew by.  Of course, now I'm wondering…if Sharōn works for me (so to speak) as a blogger and we were talking shop from the time I walk in the door until the time I leave, does that make this a business expense?  Me thinks so 😉
But that's neither here or there.
If you haven't yet been to Skin Haven, you really should check it out.  It's very Zen and very calming.  The first time I visited, I went for the herbology treatment.  This is heaven on a table, I assure you.  Your entire body is scrubbed, buffed and massaged with herbs.  And since they use herbs, you don't leave there greasy or oily.  I've been recommending this one to everyone.
This time around, my goal was to book early enough to book all three treatments – herbology scrub, massage and facial.  But time got away from me and not only could I not get around to calling to book all three, I figured I wouldn't be able to find the time to experience all three.  So a facial it was!  I was lucky enough to get Sharōn herself and boy was I treated well.  My face still feels soft as a baby's bottom and seems to glow from within.
Whatever you do, don't wait until next year's Spa Week to try experience the pleasures of Skin Haven.  If you're a little short on cash, or need a quickie treatment to test things out, then check out their fabulous Spa Lounges on Fridays.  I mean check this deal out…For just $40 you get TWO mini-treatments PLUS free a free cocktail and nibbles. You can have a facial, a scalp massage (heavenly!), massages, reflexology, herbology treatments (my fave!) or even mini makeovers…for $40!!!  Their next Spa Lounge is Friday, April 24th, so call now to reserve your appointment.  Trust me, you won't be sorry.