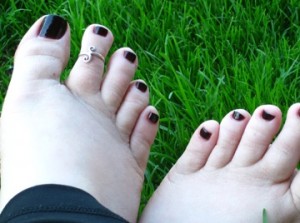 I start back at school in just over a week.  Needless to say, that requires some shopping (yay!) and some basic grooming. Working from home all summer, and honestly not getting it out all that much to socialize outside of with friends, I've kind of let things go a bit.
Coincidentally, Spa Week starts next week. And you better believe I'll be taking full advantage of those $50 treatments…massage one day, a facial the next. Can't wait.
Officially, I started the grooming process last week. A friend invited me to Soak Nails in Encino. My friend was attracted to this Nail Spa from across the city. She was interested in the fact that they used Spa Ritual Nail Lacquers (they're vegan polishes that are free of DBP, formaldehyde and toluene from parent company Orly). And who wouldn't want a much needed, luxurious pedicure. You better believe I went along with it.
It's located in a strip mall off Ventura with valet parking. In LA, free valet in a covered garage is a pretty good score. There's even a Coffee Bean if you want to get your caffeine fix before heading in.
Once you enter, you'll notice that it's not like any other nail salon. First off, it looks more like a spa than a nail salon – and it smells more like a spa than a nail salon. There's a front desk where you sign in and check out. From there they take you to the waiting room space where you can relax and check out the glossy magazines. Your tech will pick you up from there and escort you to your chair.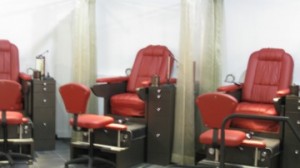 The chair set up is quite amazing. They have gauzy curtains hanging between each station that they pull back if you're there with a friend, but otherwise, lend an air of privacy. The foot basin is probably the most comfortable set up I've experienced. I could actually sit back and relax and not have to sit in any sort of uncomfortable position while the gal worked on me (then again, maybe other people don't have issues with this).
You don't sift through bottles and bottles of color. Instead, they have nail swatches (for lack of a better word) at each station and you pick your color by number. The cool thing here, they actually log your number in your account so you can pick the same nail color (or technician) the next time you stop in. I love that personalized touch.
They have the pretty standard, higher-end priced packages (I'll let you read that yourself) with the difference extras that can be added on. It's definitely more expensive than your average corner nail salon, but the experience alone makes it worth it (in my case, for my 3 month or so splurge). And much like at a spa, they'll provide you with lemon water, cappuccinos or a variety of teas while you get pampered.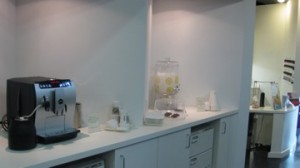 I only have two complaints with the experience…1) my massage chair didn't seem to work as well as most other spa chairs – it seemed pretty weak and only lasted about 10 minutes or so and 2) the leg massage my gal provided was a little weak – that could have been my fault since I didn't speak up (was too engrossed in catching up with my friend).
It's been a week and my toes still look amazing. I can't say my flip-flop wearing soles have fared quite as well, but that's fine. It's nothing a little pumice file or ped-egg and a good lotion can't fix. What's more important to me is that the polish not only lasts, but still looks good, hasn't worn off and the color is still true with plenty of shine.
The shorter, to the point, Twitterized version…Went to Soak Nails and loved it. They treat you well with great personalized touches. Colors are amazing. Definitely worth the splurge!
PS – I got in a bit of trouble taking these photos and had to talk my way into allowing them to let me keep them. Otherwise, there would be more to really showcase the place.