This weekend is a crazy sort of weekend here in LA.  We've got NAMM going on in Anaheim for the musicians out there. There's the Golden Globes for the movie buffs.  The Home and Gift Show going on at the Convention Center for the retailer.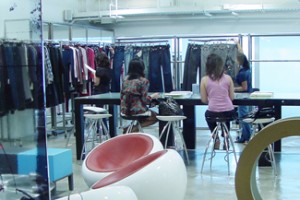 But me, I decided to hang out at the California Mart to check out the LA Fashion Summer 10 event.  And the LA Kids Market.  And the Focus Apparael and Accessories Show.  And the smaller, low-key , Home and Gift Market.
Needless to say, I was a bit overwhelmed.  To say the least.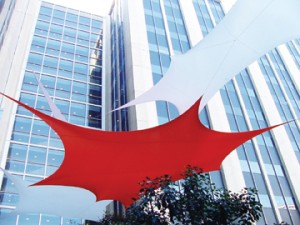 Yes, that tall building is indeed the Mart.  It's located on 9th & Main in downtown's Fashion District, and home to hundreds of wholesale showrooms for fashion, textiles, gifts and home decor, in addition to a range of offices, studio spaces, fashion design schools, restaurants, cafes, shops and special event venues.
That's three buildings, 13 floors worth of window shopping!
I figured it would be best to just walk around and scope things out. No sense trying to reach out and talk with anyone.  I'm far too green and new to the whole process.  Plus, I was given a directory of all the lines and vendors, so I'll still be able to get something out of the whole experience.
All in all, hanging at the Mart (especially during their Friday sample sales) can be fun for all.