I normally don't post stuff like this (in fact, it came through as a comment and I marked it as Spam).  But hey, this is LA where anything happens…including new reality shows.
Good luck to you and your cat(s)!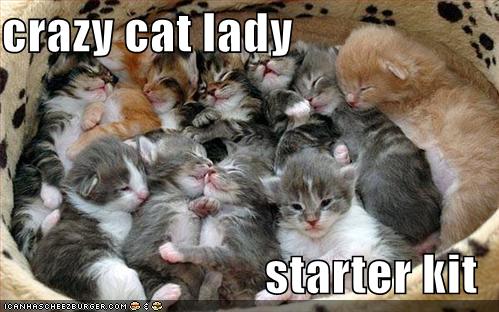 Casting SINGLE Ladies that LOVE their pet CAT(s) for a New refreshing Makeover/Dating TV Pilot!!!
Emmy-award winning Television Production Company is looking for single women with pet cats who want to get back into the dating scene as soon as possible and receive a free makeover!
Do you know someone that…
•       Prefers to stay home with her pet cat(s) instead of hanging out with her girlfriends on a weekend night?
•       Is worried about leaving her cats at home alone at night?
•       Rejects a date if her pet doesn't like them?
•       Has more pictures of her pets in her purse, and no one else?
•       Owns a sweater or hat that features a cat (or cat hair)?
•       Dresses up her cat for any holiday?
We want to hear from you!  This is a light-hearted show that will give someone a fresh start in the dating world and offer a few pointers along the way about how to balance pet-care with heavy petting!  We want to give your friend a New Look and a New Attitude on life! We are here to help!
We are looking for women who:
•       Are located in the greater Los Angeles area
•       Are at least 18 years old and over
•       Have at least one pet cat or more
The show will provide her a FREE STYLE and LIFESTYLE makeover!
ACT NOW!!! Email us ASAP! We're only casting for a couple of weeks, so hurry!
•       Your name (Nominator)
•       Your contact info
•       Nominee's Name (Cat Lady)
•       Her contact info
•       City the Nominee lives
•       Pictures of the Nominee with her cat(s)
•       Picture of the Nominator
•       A short paragraph that describes her lifestyle and why she would make a great candidate for this show.
•       If this describes YOU, please send all pertinent information above