Thanks so much for stopping by. I wanted to take this moment and go a little deeper into who I am and how I think together we can do great work!!
What I Can Bring to the Table
I sometimes feel like it's my personal mission to help people feel more comfortable with today's many tech tools, apps, and social networks. I know it can be intimidating – and I truly understand how frustrating learning something new can be – but deep down, I believe everyone can (and should) be more comfortable with technology.
You see, for as long as I can remember, I've always wanted to be a teacher. As time, my education, and my life experiences have evolved, I've learned that I don't need to be in a classroom to teach or to help people when they feel stuck.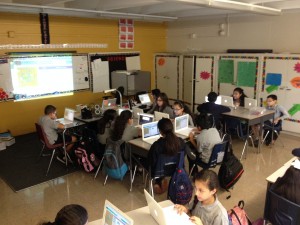 And when you add in my love for computers and technology, well, it's no surprise to anyone that knows me that I ended up here. Especially since a good friend has been urging me to apply to WordPress/Automatic for the past year or so.
I've been a pre-school teacher, a substitute teacher (both helped me to pay for college), a fourth grade classroom teacher, a tech teacher to college students with learning disabilities, and presently a middle school technology teacher. But I've also worked in retail management and as a therapist to individuals with developmental disabilities and their families.
And before, during, and after it all, I started my own online women's community and blogsite (my very first WordPress site). Which I then segued into small business coaching business where I've worked with clients of all ages and technological experiences. I've worked with helping them set up their own WordPress websites and teaching them how to update their plugins, to helping them to discover what to write about and how to identify and reach their ideal clients.
In fact, I've been blogging (under different names and URLs) since late December 2006. I started three separate blogs at WordPress.com and transitioned them all at one point or another over to self-hosting and WordPress.org.
I've been told that I have a gift for being able to break down the scary and complex technobabble, and make it not only easy to understand but also easy to implement. I help my clients, my students and my friends shake the fear that they'll make a huge mistake or some how break something.
I think that's what I've always loved about WordPress. Even when things do break (or you do something wrong), it much easier to fix than you ever realized. And that moment when you help someone fix something, or when you teach them how to do it for themselves…that's the coolest thing (and honestly, not something I often witness with my middle school students – you know, they're too cool for that sort of thing).
What People Are Saying
Here's what one of my less technically confident clients said about our work together… "I have a big problem in my business–I'm technically challenged and have had issues building up for months that I had no idea how to deal with.  After one session with Katy we cleared up everything that wasn't working. She talked me through the problems and got me to the solutions quickly and easily.  It was like having a big burst of fresh air blowing through my business. I am so glad that I found her!
And here's what one of my most recent 8th grade students had to say about 8th grade technology class, when I invited her to share her final project with future classes… "I would like if you showed my movie (as a positive example) [insert her goofy emoticon here] and thanks for making technology my favorite class of the whole year."
Here's something from another former client…"Katy not only knows her stuff, and is experienced in so many different aspects of online marketing, blogging, social networking, 8 million other things that I can't think of, but I also give her an "A" for explaining it so anybody can understand it. No matter how web savvy you are or aren't, you will learn something from this mighty source of knowledge. She's full of great ideas too!"
And lastly, here's one from yet another client back in the days when I taught blogging and WordPress workshops…"After thinking about starting a blog for months, Katy inspired me into action. I took 2 of Katy's workshops which helped me understand the basics & much more. I've received business I know came from my blog and have stayed ahead of the curve as a result of having a blog….thanks to Katy breaking it down for me. Not only did Katy helped me then, she continues to come from a place of contribution, provide insight, and tips for my business. She is a great resource and a wealth of knowledge. Keep your eye on her, she's always right on the pulse of social media, blogging, & staying relevant for business."
Sample Tutorials + Screencasts
If you'd an idea of my teaching/helping style, here are two screencasts I did for clients.  One is for setting up your domain and the other is for changing up the navigation bar on their blog.
Here are some sample WordPress tutorial posts I wrote a few years back all based on client requests: 
To learn still more about me and what how I work, I encourage you to visit my Success for Solpreneurs website. It's still a bit of a work in progress as it got hacked pretty bad while I was focused more on my school job than my business. And I'm just now starting to rebuild it now that school is over for the summer.
I am passionate about helping others succeed and be their best versions of themselves. I don't believe technology needs to get in the way of their greatness. And I think WordPress offers one of the best – and easiest – ways for people to get out and share.
Looking forward to working together…