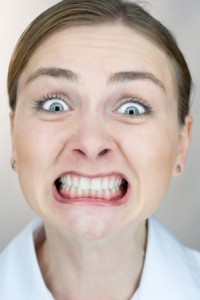 I've noticed that when I seem to have a lot going on (or when I seem to be under some sort of pressure or stress), that I clench my jaw.  Usually at some point notice and force myself to relax my jaw, but by then it's usually too late anyway.  And yes, I've noticed that I'm clenching again.  But hey, at least my eyes aren't twitching this time around 😉
I'm on the verge of moving forward into a new business, so to speak.  I'm only in the research, let's talk about it phase, but I'm quite excited.  Part of what makes me so excited (and probably has to do with the stress as well) is that this will essentially be my first business venture that isn't accidental.  Meaning, it's the first business venture that I'll be starting willingly, and properly and won't just be riding the waves of what comes my way after being in the right place at the right time, like before.  So yes, pretty exciting.
How does stress or pressure seem to present itself to you?  What's your favorite activity (or lack of activity) to help to alleviate the seeming stress? I'm thinking this week – crazy busy that it is – might be the perfect time for a pedicure break.