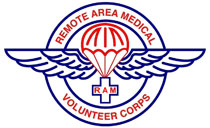 I am pleased to invite you to share in an experience that will surely change lives. We have an opportunity to impact the Los Angeles community at the Remote Area Medical ("RAM") event at the Forum from August 11 through 18, 2009.
The RAM team and over 500 volunteer doctors from our community will provide over 20,000 patients with FREE medical, dental and vision care. With an estimated 47 million people in the United States uninsured, this opportunity is right on time. FCBC and SMG are donating the Forum as the host site and agreed to partner with RAM and many other community partners to help make a difference. Please join us!
The event cannot be a success without hundreds of volunteers each day. Please inform and encourage your co-workers and friends to volunteer. The more volunteers who register by August 1st , the more patients the RAM team may plan to serve. We need your help! Volunteers may register by logging onto the RAM website before August 1st at www.ramclinic.info.
Please pass this info along to your friends and your family.
SPREAD THE WORD that volunteers are needed.
SPREAD THE WORD that these FREE services are available.
AUGUST 11 – AUGUST 18, 2009
LOS ANGELES, CALIFORNIA
at
THE FORUM in INGLEWOOD
3900 W Manchester Blvd
Beginning at 5:30AM daily
REMOTE AREA MEDICAL EVENT
To provide free MEDICAL, VISION, and DENTAL care for uninsured, underinsured, unemployed, under-employed persons
First come/First Served Basis each day – Please show up early!
PS – if you're not in the LA area, check out RAMusa.org to see where you can help out in your area.