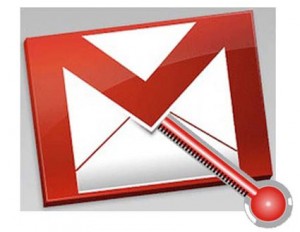 But more than that, who knew Gmail issues would still have an effect on my class tomorrow.
*sigh*
So last Thursday, whether you were even aware of it or not, Gmail was down for a bit. While I am just as addicted to my email as any other thoroughly modern Millie, it didn't ruin my day in a way you would think.
You see, during Thursday's class, the students were all to create new email accounts on Gmail. Only Gmail wasn't going to have anything to do with that. Out of 15 kids with 2 kids already having Gmail accounts and 12 emails bounced back.
This was not going to bode well for class today. And it didn't.
The good news, the majority of the accounts it turns out just needed to get their final activation. Only about four didn't go through and had to start over. Then two kids couldn't remember their passwords.
I have to say, I never actually expected this to be a tough task. I figured we'd breeze right through it. I mean we really take email for granted. We remember so many user names and passwords for so many different accounts. But the mere act of creating user names and passwords probably took most of the time.
Today, the big challenge was actually getting them to log into their accounts correctly and to send emails without typos in the email addresses. Some of the kids laughed at me for having them sign out and in and send me three emails but really, it took that long until they finally got the hang of it.
I think we did a pretty good job of making up for lost time. We shall see how replying and forwarding goes on Thursday. Should be fun, can't wait!