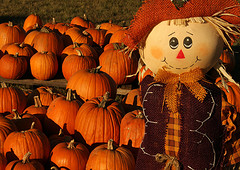 Everyone knows that Halloween isn't worth it's weight in candy if your little ones don't get to visit a pumpkin patch.
This weekend, two local LA pumpkin patches will be taken over by the crew at Ice Age to help to get the season off right.  As part of a nationwide initiative, Fox will be hosting Family Fun Days this Saturday and Sunday, October 24 and 25, at two pumpkin patches in our community with professional pumpkin carving artists, movie giveaways and other festive activities that create the perfect fall outing for the entire family.
You will have the chance to win prizes including DVD copies of the first two installments of the Ice Age trilogy, and branded Ice Age glow sticks to keep Halloween night fun and safe.
If you get the chance, stop by Shawn's Pumpkin Patch in Culver City or Lopez Pumpkin Patch on West 3rd (across from the Grove) this coming weekend to take part in the festivities.
Times like this, I wish we weren't D.I.N.K.s (dual income, no kids).  So please, have some fun for me!!  I'll enjoy a pumpkin spice latte instead.
Photo: JMT Images