Win a FREE microZone® treatment at Dermalogica on Montana in Santa Monica!
Bothersome breakout?
Tired eyes?
Dull skin?
This quick skin fix gets you in, gets skin repaired and gets you out the door in a snap!
Expert skin therapists and amazing products will provide the solution on the spot in just 20 minutes with treatments like flash exfoliation (great for shaping up before events), extractions and even eye revitalization (perfect after long travels). That means no changing out of your clothes, no fuss and big results! They'll even show you step-by-step how to identify your concerns and treat them effectively at home to maintain results.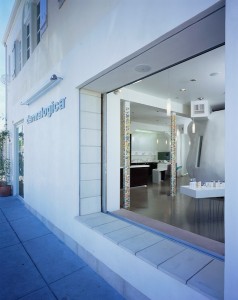 HOW TO ENTER: Leave a comment below telling me why you could use a free microZone Treatment (or any spa treatment for that matter) and you'll be entered.  I'll even double your entry if you tweet or blog about this giveaway (just leave a comment with the link to your tweet or blog post). The contest ends Friday, November 6th at noon (and is only open to local SoCal folks).
If you don't happen to win, you can stop by Dermalogica on Montana (Santa Monica) any time for a FREE Face Mapping®, which includes diagnosis, treatment, recovery and prevention. A licensed Dermalogica skin therapist analyzes your skin from forehead to collarbone, identifying potential problems, unique needs, and how to treat them professionally.
Spread the Word!!
AS A SIDE NOTE: I love Dermalogica's Soothing Eye Make-Up Remover (best ever at getting the eye gook off and doesn't sting or burn), Multivitamin Thermafoliant (love how it exfoliates, then heats up when you get it wet) and the Daily Microfoliant (no, I don't use it daily, but it's still a great exfoliant).  That said, I wasn't such a fan of their Exfoliating Body Scrub – it just didn't seem to do much for my bumpy arms and scaley elbows.
~~~~~~~~~~~~~~~~~~~
CONGRATULATIONS SURFERGRRL!!