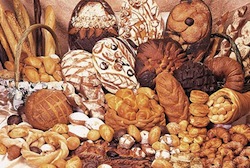 I first noticed these baking classes back in May or so.  At that time, I couldn't even consider baking in our apartment (or any time between April and October due to the crazy heat and lousy air conditioning). But i kept their info close by because it all just all sounds SO DARN GOOD!
Bread Baking Classes at Gourmandise Desserts
An intensive bread series that would include sweets, savories and breakfast favorites. The three-part series can be broken up, but we would love to see you master all three!
Bread Series 1: Yeast Breads
Yeast breads are simple once you learn how to make a quick starter! You will make Sticky Buns, Quick Rolls and Cinnamon Rolls from one dough and both Sweet and Chocolate Brioches from another. Quick Yeast Bread Base, Brioches Dough, Apple Pecan Sticky Bun Filling, Caramel Glaze, Cinnamon Raisin Filling, Cream Cheese Glaze, Buttery Brioches- and more!
Bread Series 2: Quick Breads and Muffins
Warm muffins and tea loaves are such a special treat- but so often turn out dense or dry. Well fear no more! You'll not only learn how to perfect your muffin batter, but you'll make recipes that are easy to make in just a few minutes. Tea loaves and quick breads are great for any meal; we love them both sweet and savory, and always make a few more than we need! (And who doesn't love eating veggies for breakfast)??!
Bread Series 3: Savory Breads
The Bread Series ends with a savory note; this class is sure to please! You will make three very different bases and work with many delicious combinations of herbs, spices and cheeses to make these delicacies pop. Vegetarian Gougere, Cured Ham and Cheese Gougere, Fresh and Easy Pizza Dough Tomato Foccacia Bread, OliveBread, Parmesan-crusted Rolls
Classes take place at Gourmandise at the St Joseph Center 204 Hampton Drive, Venice CA 90291
If you want to learn more, check out their site and maybe I'll see you there!!