Iced Coffee: a Haiku
summer heat swelter
coffee iced sweetened cream splash
total refreshment
I'm just going to come right out and say it…I love iced coffee!
I mean the good stuff.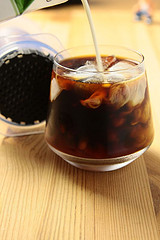 Not just hot coffee poured over ice. The mild, cold brewed stuff.  Now that's my jam.
These days, I find if I'm not drinking a hot latte, then I'm drinking an iced coffee. I've even taking to perfecting the home-brew recipe so I can have coffee-on-tap – so to speak – all year long.*
And now that school is out for the summer, I can indulge in the even stronger – yet still mild – cà phê đá or Vietnamese iced coffee. Now that's some heaven in a glass right there.
The other day, I was reading an Eater post about the best coffee shops in LA. Which of course got me thinking that most of those shops are known for their fancy drinks, their speciality roasting or beans, or even their accouterments and snacks.
But none were even mentioning their cold brew options or their gluten free options. And well, since I'm on summer break, I thought I'd give it a whirl.
So over the next few weeks and months, I'm going to visiting some of my favorite local coffee shops and/or gluten free bakery shops and share my thoughts.  Most will primarily be focused on the Valley (well, it is local, right?) since that's where I spend most of my time. But in the end, I'll be sure to share my not-so-local places as well as I travel around.
And if there's a place you think I should check out, feel free to drop me a comment below and I'll be sure to check it out.
* PS: Don't waste your money trying the International Delight pre-packed iced coffee from the dairy section. That stuff is horrible (I actually returned it for a refund and I've never done that before).  Though both Illy and Starbucks bottles are quite good.