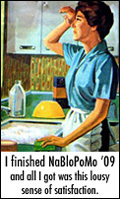 Yay Me!
I will admit that during the month, I was the most exciting blog to read.  And to be honest, I was late once or twice.
But I did it.  I have completely 30 posts in 30 days. And no matter how you slice it, it's an accomplishment.
Maybe I'll even win a prize!! 😆
Do you do it?  Did you make it through your month?  For those of you doing NaWriPoMa, did you finish your book (or your word count)?
Soo….what's next?
EDITED TO ADD:
Oops…don't I feel silly. I inadvertently and quite accidentally thought today was the 30th.  Seems I still have two days to go *sigh*
Guess I'll repost this to go live on Monday then.  Hey, at least I know Monday's done – LOL