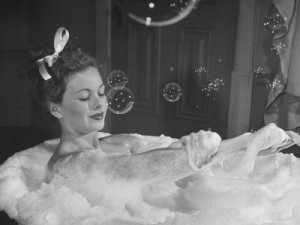 Most of my friends know of my love of soaking in a bathtub.  Heck, I'm sure I've mentioned it here that when I vacation, one of the things I look forward to is a good soak.
You see, in our apartment, we have a pretty dinky (and enclosed) tub.  In my places in NM I had a shower stall in one apartment and yet another dinky (and enclosed) tub. Which means I've been without a decent, soaking tub for the past 10 or more years.
But in my last place in Atlanta…oh baby, in Atlanta I had an AWESOME tub.  It was long and deep.  And had a great tilted back that was just made for lying back and soaking.  Is it any wonder that I took a bath pretty much every other day on the days I didn't showered (which I only did to wash my hair).
Needless to say, most of my friends know of my love of a good bubble bath.  So much so, that when a dear friend from high school was in town on business, he invited me to soak in the tub in his hotel room.  I was torn though.  I mean, let's face it, it's one thing to search out hotels with great tubs when going on vacation.  It's another to use a married friend's tub in his room while he's on vacation.
Weird right?
But then again, it just goes to show that he's a long-standing, old friend for a reason (and I believe years ago I used his awesome tub when I visited him come to think of it).  I mean let's face it, he obviously knows me right?  He knows what makes me happy and that in turn makes him happy.
So yeah, I took him up on it.  He sat in his room and caught up on his business while I took a quickie bath – the hotel even provided the rubber ducky.  Boy, did I appreciate it too.
Let me just say, our next place WILL have a decent tub.  And decent counter space (but that's a different story).