I'm not doing a giveaway here myself, but I just thought I'd share the info.  I mean who wouldn't want a chance to win a free laptop, right?  And did I mention that it's PINK??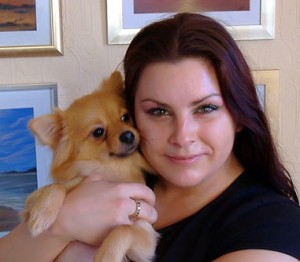 During February Lauren Luke is partnering with Sony for a special giveaway. Valentine's Day is all about making someone feel special, and that's just what Lauren aims to do through her makeup line, video tutorials, and social media outreach. Coming right off the heels of her "Inspiration Nation Tour" and to celebrate Valentine's Day, Lauren is giving away a pink Sony VAIO laptop through a contest on her website ByLaurenLuke.
Contest starts February 12th and ends February 28th.
The winner will be announced March 7th
To Enter
Lauren's friends and fans should visit ByLaurenLuke to tell us what they LOVE and how it has inspired them to do something unexpected. Their love story can be between them and anything from a significant other — spouse, mother, a child or best friend – to… well, makeup even. Whatever it is, Lauren wants to hear about it. A winner will be selected by the Lauren Luke team based on their level of passion, originality, and inspiration.
For more information on Lauren, her makeup line or the Valentine's Day promotion, visit ByLaurenLuke
What Folks Are Say About Lauren Luke
"It's amazing to see someone using YouTube to change not only their own life, but the lives of so many others."
– Chad Hurley, YouTube Founder
"It's that voice of every woman looking in the mirror and fantasizing what they can do with makeup. She demonstrates it step-by-step and makes you think you can do it too."
– Linda Wells, Allure Editor in Chief
"Her appeal is that she is the Everywoman. She connects on an emotional level, and her quirky honesty is infectious."
– Ed Burstell, former Vice President at Bergdorf Goodman
"She seems an unlikely candidate to shake up the beauty world. And yet it appears she is doing just that."
– Ruth La Ferla, The New York Times (Styles section
PS: seems like mis-spoke before and it's not sleepy pugs that she has (thought all that snoring could only come from pugs – LOL)