So a while back, I mentioned the awesome LA Cupcake Tour I was lucky to go on thanks to the Best of Tours folks and GM/Chevy.  This time around, the Best of Tours/Chevy gang were partnering with CraveLA for their take on the Best of Women Owned Businesses in Los Angeles.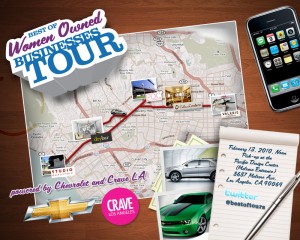 A little full disclosure before we even get started…1) I know Nicole, the gal in charge of creating the Crave LA book and 2) I'm actually one of the featured Intelligentsia in the upcoming LA book.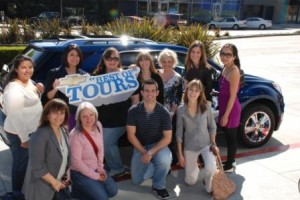 Now that that little bit of clarification is over with, let's get on with it.
For starters, we have the vehicles: Camero, Avalanche, Equinox and Malibu. Luxury all the way.  I wasn't able to ride in all of them, but I was able to check out both the Avalanche and Equinox.  And if I didn't say it last time…I'm loving that Equinox.  And chauffeur driven shopping, who could ask for more (unless we were maybe getting paid to shop too…that would be just too good to be true.).
Onto CRAVE (twitter): It all started in Seattle in 2001 when Melody Biringer realized that she was missing spending time with her friends.  Many were being pulled in different directions due to the work, family and social lives.  Melody thought a new way to connect was in order and CRAVE was born.  To put it in their own words, "CRAVE innovatively connects urban gals to the sassiest, gutsiest, most inspiring people they need to know in town. Soirees, gatherings and online networking—we are your guide to everything you CRAVE in your city." What a fun concept!
The gang at Best of Tours/Chevy and CraveLA did an amazing job of picking our locations.  Of course, out of the possible 125 women owned businesses to be featured in the book, we wouldn't be able to visit each and every one of them.  We started with just four this time around: Calleen Cordero, The Dry Bar, Studio Beauty Mix and Valerie Confections.  And what a fantastic group to start with.
I would like to spend a little more time on each business, so for now, I'm just going to keep it short and sweet.  That plus, I'd really like to visit each of them another time where I can maybe spend a little more time chatting with the fab women in charge as well as their products and services.  Well, that and I don't want this post to be forever long with photos and rambling.
So until then we've got this…
First up, Calleen Cordero (website | twitter) on Beverly.  Calleen makes some of the most amazing and fabulous looking shoes and bags you've every seen.  Everything is made by hand, from the carved wooden soles to the rivets in the design.  Just gorgeous.
Onto The Dry Bar (website | twitter) in Brentwood.  The Dry Bar is not a bar at all…it's better! It's perky salon that only does blow outs.  No cuts.  No colors.  Just a wash and style for $35.  What this concept so long to come to be?  Definitely worth checking out when you want that fantastic blow out…I was eying the Cosmopolitan, big-curl style myself.  I will be back.
Next up, Studio Beauty Mix (website | twitter) at Fred Segal in Santa Monica.  Oh.my.god.  Why have I never been to this store before?  It's like Sephora meets Lucky Magazine meets Nordstrom with your own personal shopper…but better!  This boutique has everything from hair products, skincare, bath products, make up, candles and perfumes (I can't wait to play around with creating my own fragrance at the Memoire Liquide counter) and even JimmyJane vibrators (I'm sure you've heard about their "FU*K LIMITED" 24k gold and stainless steel vibes).  I could get lost in this store.
And our final stop after a long drive through the city was Valerie's Confections (website | twitter) located somewhere between Koreatown and Silver Lake. It may have been a long drive, but it was so very worth it. Valerie let us sample a couple of her handmade chocolates and all I can say is wow!  You heard each and every one of us ooh, ahh, mmm or exclaim in delight over how amazing her chocolates were.  I can't decide which I liked best, the caramel, the champagne truffle, the salted toffee or the rose chocolate.  I do know that I came home with some toffee bites and two caramels and neither lasted the night.  Yes, they were that good.
The day lasted quite a bit longer than I think anyone expected.  But I have to say, it was so worth it.  All I can say is I sure hope that CraveLA and Best of Tours decide to do a couple more of these tours supporting local women owned businesses.  With 125 women in the book, there's bound to be more stores and restaurants to visit.
Did I shop? You better believe it.
Will I be back to visit each and every store on the tour?  Oh, hell yes!
Will I tell everyone about how I spend my weekend?  I think I just did. 😉
CraveLA, thank you for introducing me to some fabulous new places to spend my hard earned money.  Best of Tours/Chevy, thanks for helping to put it all together.