Sitting in my coastal vacation cabin on a rainy day, I'm reminded of what a fun time I had last weekend in the rain.  Let's face it, on most rainy days, you don't want to leave the house.  But for cupcakes, seventeen bloggers will brave the rain!  Even better knowing that it's a Best of Tour and that we'll be chauffeured around in the rain from cupcake shop to cupcake shop thanks to the good folks at Chevy GM and Best of Tours.
The Best of Tours are new concept with Chevy and General Motors.  It's a way for consumers (or in this case, cupcake fans) to get out and not only try our the 2010 Equinox and Camaro, but to also try out their favorite food stuffs.  Prior to our cupcake tour, they were on the USC campus taking college students to various fast food restaurants during study breaks.
I'll admit it, I might be a Jersey girl, but I'm not a girl that loves cars…even if they are Transformer-edition Camaros (though it did look hot!).  I'm more about luxury so I was sticking to the Equinox.  I must say, it was a perfect ride for a rainy day, very smooth, very comfortable, and a great sound system.  It comfortably fit five (including the driver) and that was all that mattered to me. 😉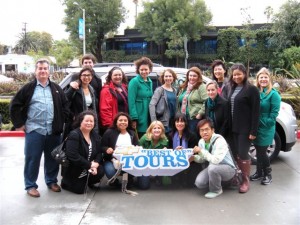 To be honest, I'm not even sure where to begin.  So I guess I'll play the obvious card here and begin at the beginning.
First stop…Crumbs Bake Shop.  I have to say, up until this point, I pretty much wrote Crumbs off.  I'd been to both the Beverly Hills location and the Glendale location a couple times and each time, I was less than impressed.  This visit changed all that for me.  I have to say, Crumbs will now be my go to cupcake shop. I think tasting fresh cupcakes at the beginning of the day vs. tasting cupcakes at the end of the day might have something to do with it.
We were treated the best out of all four shops here.  It all started with our own personal greeting by the west coast partner, Harley Bauer.  Nothing makes you feel as welcome as entering en masse into a shop and having the owner walk out loaded down with bags of cupcake goodness.  He invited us to help ourselves and reminded us that if there was anything else we wanted to taste to just let him know and he'd set us up.  I tried the chocolate pecan pie and fell instantly in love.  I've never been one to say that something is too rich, but wow, this was rich (but in a good way, of course!).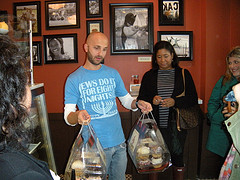 I also wanted to try the winter flavor, White Hot Chocolate.  I'm not really a fan of white chocolate (I just can't get over the fact that it's not real chocolate), but it looked amazing.  I was lucky enough to mooch a small taste from one of the gals and was quite impressed.  Before passing us on to the next shop on the tour, Harley gave  us all bags to store our leftover cupcakes and sent us on our way back into the rain with hot coffee (or water).  Smart move and very, very much appreciated.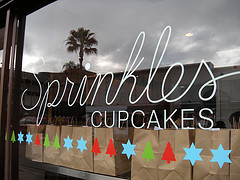 Next up…it was a quick walk to Sprinkles.  These guys pretty much started the cupcake craze here in LA, but it was my least favorite of the bunch.   It probably didn't help to sway me by offering up their most boring traditional flavors: chocolate, vanilla and red velvet.   The good thing about Sprinkles is that they're predictable and you always know you'll get a good cupcake. But with most of my friends, we've pretty much decided it's just not worth the hype.  It didn't help that we had to taste our cupcakes curbside in everyone's way (then again, their space is so small, there wasn't room for us inside anyway).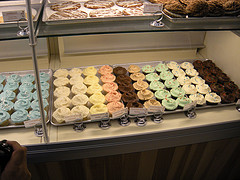 From there, it was back into the fabulous Equinox to head over to SusieCakes. At this point, I just wasn't feeling trying to eat another cupcake standing up.  I also thought that since I was bringing leftover cupcake goodness home, that the least I could do was bring home something for the hubs. So I picked up a lemon cupcake* for him.  I didn't find out until later (lack of research on my part, I know) that SusieCakes' strawberry cupcake is known as being Martha Stewart's favorite cupcake.  If I'd known, I would have definitely tried that.  Lucky for me, Tara let me have a taste of the strawberry frosting and wow, it was good!
The last stop…Vanilla Bake Shop.  I wasn't so impressed with this location.  Or maybe it's just that I'm now used to so many flavors and choices (like with Crumbs and Sprinkles).  This time around again, I decided to pick something up for my husband and again went with the lemon flavored cupcake.  I loved it and thought it was very tasty.  Quite a few folks in the group were turned off by the raw sugar sprinkling and passed to try the key lime cupcake instead (later to write it off as horribly dry and lackluster).  I liked the crunch of the sugar (my husband, on the other hand, did not).
Management was also a little grumpy about photos (and samples…duh, we didn't expect any samples and who would???) so I don't have any photos from here. H.C. of LA/OC Foodventures took a photo of his chocolate cupcake in the bathroom (photo here).  Point taken, I'd say.
Then it was back into the rain to hop into the Equinox one last time to head back to the Pacific Design Center to head back home.  We were told to try the Onstar button for turn by turn navigation, but it wasn't activated in the car we were in.  Like any good hostess, Tara wouldn't let anyone go before we got a cupcake-inspired goody bag chock full of cupcake stickers and lip gloss, a stylish InStyle book (which I love more than you can imagine being someone without style), and the coolest thing to ever find in a swag bag..a Tiffany keychain with the GM logo.  Yes, I said TIFFANY!!!
Overall, it was an awesome way to spend a rainy day.  Keep your eyes open for more Best of Tours in your neck of the woods.  Better yet, just follow along on Twitter.
*Of the two lemon cupcakes I brought back for him, this was his favorite.
Other posts about the event:
Happy Go Marni: Scavenging Los Angeles Cupcakeries in Chevy Camaro and Equinox with Best of Tours
LAist: Tuesday is National Cupcake Day. So Who Has the Best?
LA/OC Foodventures: Special Foodventures #147: Thankfulness for Cupcake Tour around L.A.
Let Me Eat Cake: Cupcake Coma
Tara met Blog: Best of LA Cupcakes Tour with Chevy
Edmunds.com's Inside Line Straightline blog: Chevrolet Goes on Cupcake Tour in L.A.
Caroline on Crack: Best of L.A. Cupcakes Tour With Bloggers and Chevy
Pretty Sandy Feet: Cupcakes and Wedding Dresses
For additional photos from the event, check out TaraMetBlog and LA/OC Foorventures' Flickr sets.
I only had my iphone with me, so all photos are courtesy of TaraMetBlog.