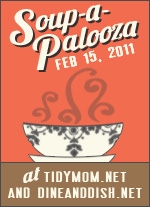 I first heard about Soup-a-Palooza about a week ago.  Since then, I've been anxiously awaiting the time to share my own recipe.  One of my very simple, right out of the pantry, go to soups.
I discovered this recipe back in about 2004 or so when I first stumbled upon Karen Duffy's (of MTV|Reality Bites|Dumb & Dumber fame) A Slob in the Kitchen cookbook at Book Soup while waiting on my husband after work one day.  Since then, I have made a version of her White Bean and Pesto soup many, many times.
And please, keep in mind that I am  in no way, shape or form a food or recipe blogger.  So there's no fancy photo to accompany this recipe.  Which makes sense as it's really too simple to even worry about anything else.
Karen Duffy's White Bean and Pesto Soup
2 cups chicken broth or stock
2 19-ounce  cans of white beans (drained & rinsed)
2 tablespoons pesto sauce
2 tablespoons grated parmesan cheese
Bring the chicken stock to a boil. Add the white beans and simmer for about 2 minutes, then stir in the pesto.  Once you've plated the soup, top with grated parmesan cheese.
That's it.  Super simple.  If you keep frozen cubes or a tube of pesto on hand, you'll be able to put this soup together in under 5 minutes.  Serve with a crusty bread and a side salad and you're good to go.
One word of advice…do NOT add any extra salt.  Depending on the pesto and the broth, this soup can sometimes get a little too salty.
For access to more soup recipes, I invite you to Come join Soup-a-Palooza at TidyMom and Dine and Dish sponsored by Bush's Beans, Hip Hostess, Pillsbury and Westminster Crackers and share your favorite soup recipe.  You never know, you could win some fun prizes.