Hey L.A., Why Not Make Friday the 13th Your Lucky Day?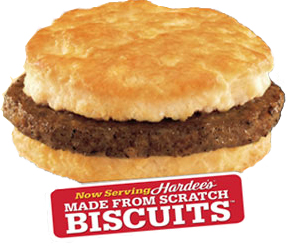 What: Friday the 13th is going to be a lucky day in L.A., for anyone who wants a free breakfast. That's because Friday, Sept. 13, is Free Sausage Biscuit Day at Carl's Jr. restaurants across the greater Los Angeles area. From 6 to 10:30 a.m. that day, everyone is invited to visit any participating Carl's Jr. and get a free Sausage Biscuit.
Here's how it works: Walk in or drive thru, ask for your free biscuit and get a Sausage Biscuit, free. Boom! That easy.
The Free Sausage Biscuit Day offer is good during breakfast hours only. No purchase is necessary; one per guest, who must be present, while supplies last.
When: 6 to 10:30 a.m. Friday, Sept. 13, 2013.
Where: All participating Carl's Jr. restaurants in the Los Angeles area.
Sadly, these made from scratch biscuits came out AFTER I discovered that I have a pretty severe sensitivity to gluten, so I've never tasted them (but boy howdy do I miss biscuits – especially since I've left Georgia).  Far be it from me to hold anyone else back from enjoying a free sausage biscuit though.  Enjoy!