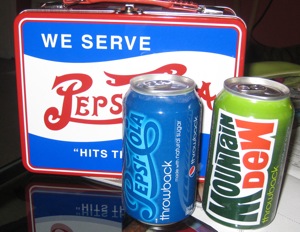 I just love when I open to door to get the mail or let out the dog and have a surprise sitting there waiting for me.  And today, that surprise was this old school Pepsi lunch box and a sample of both their Pepsi and Mountain Dew Throwbacks.
So what is a Pepsi or Mountain Dew Throwback, you ask?
It's that retro look and taste that hearkens back to life in 60's and 70's (man, now I feel old!)  Both products are sweetened with natural sugar.  You know, just like you used to remember.
Although I honestly, can't say that I actually remember what soda used to taste like before the corn syrup got a hold of things (having just finished the Omnivore's Dilemma, I'm so more aware of this corn syrup thing than ever before).  Lucky for me though, once I moved to NM and later SoCal, I was lucky enough to be able to occasionally purchase both Coke and Pepsi products that were imported from Mexico and sweetened with cane sugar.  Man, now that's some good stuff.
What a difference the natural sugar makes.  I mean, it just tastes simpler.  Smoother.  Yummier.
Now for a short time, through to the end of June, the Throwback sodas (I have such an urge to call them "pop" and I have never in my life used that term) will be available in select markets.
Moral of the story, drink these babies while you can.  They can't be expected to keep the 60's and 70's around forever now, can they?  It's not like this is fashion we're talking about 😉
CLICK HERE TO ENTER FOR YOUR CHANCE TO WIN A RETRO PEPSI THROWBACK PACK