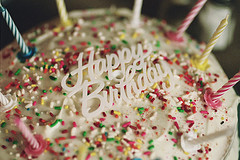 Yes…it's almost my 40th birthday!
Holy cow, I can't believe I'm going to be 40.  Remember when you were just a kid and forty just seemed OLD.  Well according to Sephora (and their Beauty Insider email), I'll be 40 in less than two weeks.
Oh.My.God!  Less than two weeks!
Maybe we should put a little perspective in place here.  I'm not freaking out because I'm turning 40.  At all.  In fact, I tend to think of it more as a rite of passage and a title that I've earned.  Now turning 30, that was an entirely different story and scared the shit out of me.
No, what I'm concerned with is that I've yet to plan my party.  And I've yet to plan anything for our 5th wedding anniversary that happens mere days before – but I'm choosing to push that aside as we'll more than likely celebrate later with a weekend away somewhere.
So back to the birthday extravaganza…
I sent out a save the date email last week some time – classy, I know.  Last night I sent out the evites – super classy, I know.  Today, I only have two RSVPs!  Which again, I guess I can't really worry about since well, I haven't actually finalized the restaurant location either.  Or at least, that's what I'm telling myself.  Though at least I have narrowed the location down…to somewhere in West Hollywood.
I was originally thinking about Amalfi on La Brea.  I love that place.  Very romantic (or in this case…celebratory), great food and good prices.  But…they've got a $20 a bottle corkage fee and their menu doesn't change outside of the daily specials (which for Italian is kind of odd, at least here in LA).  The manager also didn't seem too keen on my wanting to have a party on a Saturday night.  So I guess, if he's not that interested in our business, I can look elsewhere.
So maybe some of you LA gals can help me out.
I'm looking for a restaurant in Hollywood, West Hollywood or Mid-City, that can easily handle 25-30 people.  Menu has to be about $20-30 per person.  We'd like to bring in our own wines so we can cover at least that part of the meal, so we need a decent corkage fee.  At the $20 a bottle fee that Amalfi charges,  we'd be looking at a small fortune just in the corkage fees (not counting the cost of the wine itself), so we're hoping to find something more tolerable.
Any suggestions would be greatly appreciated.
Okay, now it's back to business for me.  I have a gazillion emails to get out today for upcoming contest giveaways
And yes, I know I still need to pick a winner and send out that thank you giftie for giving me the names of some of your favorite products to check out (a long, long time ago).  I haven't forgot about that…I just haven't found the time.  I will.
photo by Cafemama