"Write while the heat is in you. … The writer who postpones the recording of his thoughts uses an iron which has cooled to burn a hole with."
~Henry David Thoreau
I've come to terms with the fact that I haven't written anything of worth in months now.
I can't say I'm proud of this. But I can admit that it's the truth.
Which of course isn't easy to admit. Even if we've be told for however long, that admitting there's a problem is half the battle. Though I wouldn't actually say that not having much of a desire to write is actually a "problem".
But I digress…
You see,  for years, I blogged 3-7 times a week. I had my personal blog (here) and my business blog (there). I was constantly in creation mode. My mind was always spinning.
I was making lists of ideas to write about. Lists of ideas to shoot videos about. Lists of ideas to speak about, to train on. Et cetera. I was always creating in my mind.
And then one day, that stopped.
I felt overwhelmed.
I felt like I no longer had anything to say.
I felt like I didn't have anything original or inspirational or even motivational to share.
And when you make a good part of your living helping others to identify and clarify their passion, to find their voices and to get out there and share that with the world…well, not having anything to say, that just becomes embarrassing.
So I went into hiding. I disappeared from so many places that I once felt so comfortable.
I dimmed my light so that only the nearest and dearest to me could see it. And even then, I think they'd be hard-pressed to tell you that they saw me at all.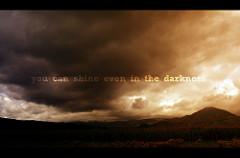 But now I'm feeling that desire again. Thoughts and ideas are starting to flow.
The curiosity is back.
The desire to work with women is back. Heck, the desire to network and expand…is back!!!
I can't make any promises that I'll be posting here, at this particular website all that much. But you're more than welcome to join me over at my other site…where I have some big plans….that I still need to wrap my head around.