Okay, I'm going to go on a bit of a rant here, please forgive me.  But why is it that some people seem to have such challenges responding to an invitation?
I know I'm not alone here as I heard about it (and experienced it first hand) during the wedding planning days. Yes, I had more people show up to our wedding than responded to the invitation (and one guy was even kind enough to show up in jeans and with a pretty skanky mistress date!)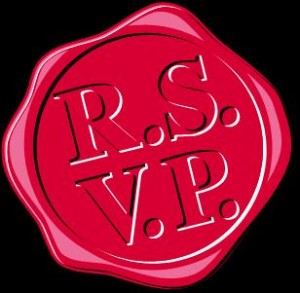 To me it's quite simple…if someone has to make reservations, pay money, order food or drinks or just plan something out right, then it's important to RSVP.  You can't just ignore each and every contact they send.  More importantly, you can't just show up at the event and expect to be welcomed with open arms.
It's just rude.
So I'm sure you can see where this is going.  Yes, I still have not heard from a good chunk of the people that I have invited to my dinner next weekend.  And yes, I do need to get cracking on making those reservations and ordering the cake and booze.  I'm not sure what to do next.
I sent out a "save the date" email (yes, lame to do it via email, but it was all kind of short notice and I wanted to give folks as much advance notice to avoid the whole missing RSVP thing – yeah, that's working in my favor here, I see).  I sent out the actual evite.  I then sent out an email to everyone (local) that either hadn't yet opened the evite or hadn't yet responded to remind them to let me know if they could make it so I could make reservations.
Did it work?
Well, it got me four more RSVPs, but I still have about ten more people that I'm waiting on.  I even made sure to point out that gifts aren't expected, that I just want to share the day with friends.  I really don't know what to do now.  I'm totally fine estimating up on the headcount, but to be honest, it kind of sucks.
I'm kind of thinking that if I have to go through hoops to get friends to join me in a birthday celebration, then maybe it's not the celebration that's the issue. No, this isn't a whiny post (well, it might be a little whiny – I mean whining and ranting are so closely related – but it's not a "woe is me" sort of thing). I mean, I didn't get to be on the verge of 40 wondering about who my friends are.
Life happens, sometimes you have the best intentions, but sometimes you just can't make something.  I get it.  It happens to all of us from time to time. But if someone is going above and beyond asking for an RSVP, then please, take a moment to send an email, a text, leave a message, or just check a little box.  It won't take much time on your end, and it will make things much easier on their end.  Trust me.
The moral here…RSVP dammit!
Okay, on to much more important things to focus on this beautiful Friday…
Happy May Day to you all!