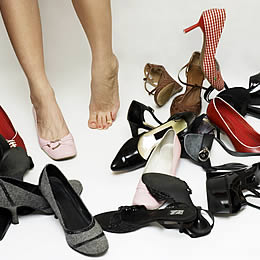 I've said it before, but I've never been the kind of gal that goes crazy for shoes.  Flip flops maybe, but not shoes.  And certainly not heels.
I think one of the many reasons why I love my flip flops so much is that they don't need time to break them in.  There's no painful rubbing on the bone near my big toe (sadly, I'm beginning to realize that that might be a sign of age *ack*) And there's no digging my achilles heel raw.
Thing is, I can't wear flip flops to work.  You know, I have to be an example of a professional women and all that (no really, this what I was told).
Thing is, when I first got this teaching gig last January, I needed some new shoes quickly.  And I needed more professional clothes as well (read: no jeans or yoga pants).  So, I did what any bargain shopper would do…I picked up whatever I thought might work, as cheaply as possible.
I've realized lately though, that buying inexpensive shoes means you have to take time to break them in.  They're not ready to go from time you cut the elastic holding them together (I told you I went inexpensive here).
In my case, every time I wore a pair of shoes, I either got a blister or rubbed something raw.  And needless to say, once you've done that, it makes wearing even more comfortable, broken-in shoes quite unpleasant.  Especially if you have to walk a few blocks from the car to the office and then have to walk around the room or stand for two hours straight.
I figured it was about time to grow up and be kinder to my feet.
So, today I did it. I headed on over to the mall and hit up my nearest Aerosoles store.  I picked up three new pairs of shoes: two flats (one black, one brown) and one pair of black heels (I'll get brown another time).  Sadly, I only came home with one pair, but the other two should get here next week sometime.
Why didn't someone tell me that when you spend more than $20 on shoes they actually FEEL BETTER?!?!
I can't tell you how excited I am to find shoes that feel comfortable right out of the box (and there's no elastic to cut to separate them!).  I'm actually looking forward to wearing my new shoes tomorrow. Assuming it's not raining.  If it's raining, I might have to hold off a day (or wear a different pair to the classroom) since they're suede.
I think this could be the beginning of a beautiful relationship!!