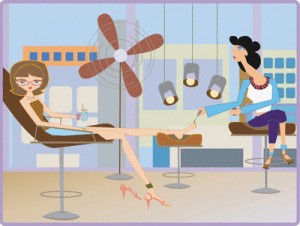 I can think of two things…1) knowing that because it was free, I was able to make a donation to the Susan G Komen organization and 2) having a free mani/pedi that actually lasts longer than usual (by my mani-standards anyway).
The other day I received a fun little email from my teaching assistant.  Turns out the local Aveda Institute (who knew we even had one in LA – they're just a year old now) was giving away free services for a mere donation to the Susan G Komen organization.  So never one to turn down a freebie, I jumped at the offer.  Then again, I love all the cool products that hit the shelves each October in support of breast cancer awareness and will pretty much buy anything if it supports the cause.
Overall, it was an surprisingly pleasant experience.  The place was crazy crowded (it is a school after all) and I think they had an all hands on deck policy for the day.  So it was loud.  Louder than I expected.  But it was still the Aveda experience we've all come to know and love: hand massages, back massages and their yummy tea. And that made up for it.
So what if an express mani/pedi took two hours.
Yes, you read that right.  My file, buff and polish (the express part) manicure and pedicure took TWO hours.  It would have taken longer still, but I had her skip the top coat on my toes.  This in turn turned out to be a great thing since I nearly forgot that I had booked a client call that was scheduled to start in 10 minutes!
I learned a couple things from my reaction to this experience (and possible life lesson):
I was pleasantly surprised by just how patient and understanding I could be.  This was something new for me, as in the past, I would have been going crazy and fidgeting up a storm (if not getting a bit snappish).  But this time, I was able to just sit back and enjoy the experience for what it was – even though it wasn't in the most Zen-like setting.
This was indeed a school and the students are really just learning and getting their much needed experience.  My gal assured me before we even began that she's great on her own nails and has polished friends in the past, but um…and she left it there.  Meaning, she either hasn't done this in quite some time or she's still in the beginning of her training. And it showed.  But she actually did a great job. Sshe also worked as slowly as she possibly could to cut down on any mistakes.  For the most part, the only mistake was when she knocked down my brand new, first time being used, bottle of polish and it spilled everywhere.  It's okay, I've done worse and have made both bigger and more expensive messes. It happens.
I was able to quickly and easily adapt to the fact that I wouldn't be at the number I said I'd be at for my meeting that was scheduled.  Again, this is a pretty big deal for me.  Instead of freaking out (and messing up my nails), I simply called the client to let her know that I wouldn't be at the office, but would be on my cell instead.  Since she wanted to do a conference with her partner, we just postponed for the 30 minutes it took me to get home and settle in.  No stress.  No worries.
And hey, the good news…my nails still have polish on with very few chips.  This is a first considering in the past nail polish has been known to start chipping the very next day. Then again, I'm also showering with gloves on so the manicure will last longer.  Goofy, I know, but my nails look so pretty…I can't help it if I want it to last a bit longer.
So all in all, it was totally worth the time and I'd do it again (even if it wasn't free for a donation).  If you're local, check out the school. I think you'll be pleased with both the prices and the experience.  Just be sure to allow yourself more than enough time between your appointment and anything else.  And you can get two hours of free parking at the lot on Broxton.