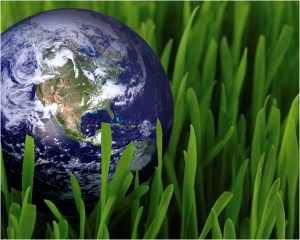 On the one hand, I'm totally on the bandwagon and have been for years.  I was raised recycling and making our own household products.  I've been refusing bags or bringing my own bags places long before it was all sorts of trendy and cool (I love my mini-Rume bag and keep one in my purse at all times – at the grocery store I just use my SXSW cloth bags).
But sometimes, I'll admit it, I just can't get into it.
Sometimes, the mere scent of a new bath or body product is just too tempting to walk away from because it's not organic.  Or the killer laundry product that I can't even begin to imagine walking away from – like the new Spray 'n Wash Bright & White that gets my clothes amazingly white for the first time in I don't know how long (but I do know it's been years since I've not done my laundry at a laundromat).
I'll admit it though, Kermit was right…it's not easy being green.
Now that weather is cooler, I'm not going to have a window sill to rest my drying bottles and cans in (and I've learned the hard way, if I'm storing my bottles and cans inside, they MUST be rinsed out). I'm going to have to come up with a plan B here.
And while I have no problem spending a little extra for my organic health and beauty supplies, I have to say, I'm a bit disappointed in how they've been working.  So far, I think I've wasted more money and more products on things I didn't like or that didn't live up to the hype.  And I have to wonder, is it worth it?
I will say, there are some products that I'm trying that I love (keep in mind, they're not all 100% organic or environmentally safe)…
Cargo's Plant Love Organic Loose Powder – I'm pretty much a die hard Bare Minerals kind of gal, but I have to say, I love this stuff.  There aren't as many colors to choose from, so it's more challenging to find that perfect shade.  But…not having to deal with the BE/BM burn is awfully nice.
Mrs Meyer's cleaning supplies – I've switched over to her cleaning products a couple years ago. While I know I can just as easily make my own cleaning supplies, I have to say, I'm addicted to the aromas.  I love that I can hop into my shower, close those icky doors, and start scrubbing off the soap scum without having to worry about fainting from the cleaning agents.  Always a good thing.
Dessert Essence Natural Roll-On Deodorant – who knew finding a natural deodorant that works would be so difficult.  My girlfriend actually picked this one up for me when she was perusing her co-op website.  So far I love it.  Since I also use their tea tree oil, I had a place an order for me so I could try some more of their products.
The Green Beauty Guide – Like I said, I'm having some challenges here, so I could use all the help I can get finding those new products to try.
Burt's Bees Tinted Lip Balm – I was given this as a giftie by a friend that works for Burt's Bees.  Lip balm addict that I am (with a gazillion and one lip balms lying about), I stuck it in a purse that I rarely use and never gave it much thought.  I was using that purse the other day and whipped it out. Wow, I love this!  It's got just enough color and it's minty.  Very cool.
Josie Maran Lip Gloss – this baby sits in my concert bag (yes, I have a small purse just for when I go to shows – holds close to nothing, but it's also easy to hold on to).  I keep this bag stocked and ready to go – toss in the ID and the Blackberry and all is good.  While I can't attest to the color – I'm usually in the dark – I do love the scent, the taste and the last power.  It's not too goopy and stays on through most of the show.
Laundry Tree Soap Nuts – I love, love, love these babies.  We were given samples in our BlogHer swag bag two years ago.  I loved them so much, I arranged to do a giveaway on ConstantChatter.  Basically, instead of using detergent, you just toss the nuts into the wash and let them work their magic.  I'd use them more often if I didn't have to use a laundromat (feel like I'm wasting them since more than likely, the machine is already filled with enough soap residue to wash with water alone).
Dryer Balls – I also love to use dryer balls instead of fabric softener.  The roll around and beat up the clothes so they get soft and fluffy without the chemicals.  I will say, they don't completely cut down on the static, but you can deal with it.
I can't say I'm doing perfect here in my quest to go green.  But it's not such a bad start.  I tell myself that once we move into our own place (and I no longer have to use the laundromat) or fight to get the recyclables taken care of, it will be much easier.
What are you doing to go green[er]?  What are some of your favorite products?