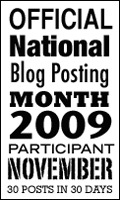 I'll admit it, I'm not thinking clearly.
Once again I've decided to participate in NaBloPoMo (National Blog Posting Month).  Basically, I commit to blog daily for the full month.  This should be interesting since I've noticed that when I'm teaching, I can't seem to find the time to post.  So this year, more than with any of my past NaBloPoMo times, this should be a challenge.
I didn't do it last year because we were in Ireland. I seems I even did it last year while we were in Ireland.  Looking over everything, it looks like I skipped a couple days at the end of the month*.  Then again, I had multiple days where I posted more than once.  And of course, things got totally wonky in Ireland since we were half a day apart from where I was posting in Ireland and when it said I was posting in LA.  Very wonky indeed.
I'm hoping I can do this.  I can't say that there's a helluva lot going on right now that's not school related.  But we will have our mini-vacation soon.  Strangely enough, it seems we tend to do mini-vacations in November (looking over past NaBlPoMo posts).  Very strange indeed.
If you'd like to know a little more about me, feel free to hop on over to my About page.  Otherwise, welcome to this mess I call NaBloPoMo!!
Wish me luck!
PS: If you're an LA local gal, be sure to sign up for your chance to win a spa treatment at Dermalogica in Santa Monica
*just looked closer, seems I threw in the towel with only 8 days to go.