Calling all you local readers, time is running out for your chance to win…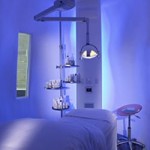 I didn't want you to forget to enter for your chance to get a free treatment at the Dermalogica on Montana location in Santa Monica (the contest ends Friday – that's tomorrow!).  I received my microZone® treatment Tuesday night and it was beyond heavenly.  Who knew that a quick, twenty minute treatment would leave me feeling so relaxed.
Typically you can either choose which 20-minute, microZone® session you'd like to have, or you can let the estheticians do their job and offer you the treatment that you need most.  I had the basic blackhead relief complete with everyone's favorite…extractions and my personal favorite the high frequency wand.  Luckily, there were only a few extractions.  And yes, I left forking over a goodly amount of money for some new, much needed products.
My friend had an awesome soothing treatment of some sort (not on the standard microZone® service menu).  She's typically prone to some red blotches (and like me, the dreaded adult acne), so this treatment was just what she needed.  It was amazing how non-red (guess that's not really a word, but I'm sure you get what I'm trying to say) her face looked when we left there.  These ladies really know what they're doing and they know how to squeeze it into a 20-minute session to give you exactly what your face (or hands) need.
And if you're a bit of an architectural geek, I'm sure you'll get a kick out of the storefront.  It's their original "concept space" (one of only six worldwide) and very futuristic and spacey.  It reminds me of something out of that Woody Allen movie, Sleeper that I saw as a kid.  Very cool vibe.  And I love that your treatments happen in pods and you don't have the standard new agey music.
I certainly wouldn't want you to miss out on this fantastic opportunity to win, so be sure to enter NOW!!
And while you're in the entering contests mode, be sure to enter for your chance to win $60 in NORMS food!