I never said I was a fashion plate.  In fact, I blogged about being fashionably challenged some time over the summer.  While I have gotten a bit more fashionable since I started teaching again – I mean, considering I can't teach in yoga pants and sweats – I've still got a lot to learn.
The other day I figured I'd head on over to Kohls and spend my well earned $20 in Kohls cash.  What better to spend my free money on than a new pair of slumming around jeans (I have enough nice trouser jeans, but nothing to schlep around it).  Easy, right?
Well, for the most part it was.  I decided on two pair; one clearance and the other on sale (don't even get me started on what I ended up spending that shopping trip…I'll give you a hint, it was more than my $20 in Kohls cash).
Fast forward to today and well, yesterday too…
I noticed that every time I entered or left a store (any store), I'd set off the security alarms.  I just assumed it had to be something in my purse (I'll throw anything in there…why I love me a big bag).  Then today I set off the alarm again in Barnes and Noble.  Thing is, this time I was only carrying my wristlet.  So the only thing in common was me, my wallet and my phone.  Confusion.
When I got home I figured I'd better check out those new jeans.  Well, turns out it was just a stupid tag SEWN into the jeans.  Why would they use a security system sewn into the product if they're not going to un-charge desensitize them before handing them over to me?  Crazy.
Oh well, it's fixed now.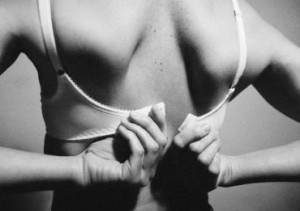 During this very same Kohls shopping trip, I thought I'd check out the clearance.  You could tell they'd just organized or cleaned up since all the bras were organized nice and neatly by size.  I took a quick peek and found two bras in my size; one black and lacy, one boring and beige.  Perfect!  And both were only like $6 each.  Total score.
Then some time yesterday or so, I was lying in bed (probably napping after class) and it hit me that I bought the wrong size.  I bought my old, pre-reduction size that I was over 10 years ago.  What the hell.
Guess where I'll be going later this week?
I'm half-wondering what sort of message is in these two related, yet not, fashion mishaps.  Any idea?