I was listening to my favorite podcasts the other day (Tranquility du Jour) and the guests being interviewed mentioned that she does a regular feature called Friday Finds. Unfortunately, I'm listening to about 6 months worth of podcasts out of order, so I can't find who it was that was being interviewed.
But I still thought it was a fun idea and something that I wanted to run with. I'm thinking that it's something that I'll eventually get on all my blogs since they all have different focuses.
So here we go…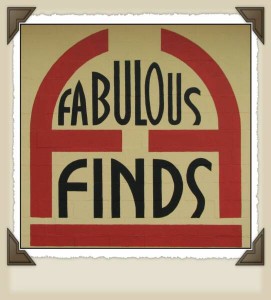 Fabulous Friday Finds #001
Tranquility du Jour: I was first introduced to Kimberly Wilson at a recent Ladies Who Launch event. Since then, I've read her book, started listening to her podscasts and signed up for her Tranquilista Lifestyle ecourse. Definitely a fun resource (and as I said above, part of the inspiration behind this new feature).
Happy: a super fun online store (they also have a location here in LA). They've got it all, gift items, kitchen and housewares, unique decorating items. Very fun.
Papaya Art: Years ago, my very first job was at a card and gifts store in Princeton. I have since been crazy for cards and stationary. I was just introduced to Papaya Art and of course, I had to buy some cards. And a cool, new, blissed-out water bottle. Right now, I'm totally coveting some of the art panels and the canvas giclee wall hangings (good thing my birthday is coming up soon).