For my husbands birthday, I had planned to take him a way for a day of wine tasting in Santa Barbara. But work got in the way.
Then we were going to go a couple weeks later, but again, his work got in the way.  He then proposed that we go out that way for our anniversary weekend, but yet again…you guessed it, his work got in the way.
*sigh*
It was looking like our weekend away wine tasting was never going to happen.
Then he suggested that we head out for my birthday weekend and celebrate everything all rolled into one.  He wasn't able to promise anything because again, he was afraid that work would interfere, but this time, we were actually able to make it happen.  Of course work again, had their hands in the way things played out, but it worked out for the better this time around.  And due to reasons I'm not yet allowed to discuss, we won't have these sort of life interruptions in the future. Yay!
Not being parents, we didn't realize that it was Mother's Day weekend.  And not being marathon runners, we didn't realize it was the weekend for the annual Santa Barbara Wine Country Half Marathon.  Needless to say, anything in Santa Barbara, Santa Ynez and Solvang were completely sold out.  So we headed up to Santa Maria instead.
Wine is wine, right? Well, that's what we thought anyway.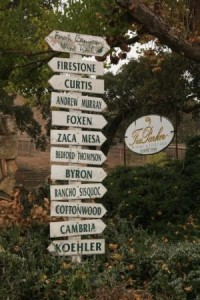 We stayed at the newly remodeled Holiday Inn right there in town.  Nothing fancy, but quite comfortable (aside from the very odd, cheap chair that sank down to nothing when you sat in it).  And it had a kitchenette, so we were able to bring some wine back to the room and save money by not eating out for breakfast.  We didn't try any of the amenities, but I will say that this is the first time in a long time that we had free internet access and that alone was quite nice.  I also loved how they went out of their way to ensure that we had a great experience: a welcome letter, a welcome voice mail message and a note to reconnect with my bill.  Great customer relations.
For the most part, we just relaxed, drove around and tasted wine.  We were a little disappointed in the wine tasting experience. Not only were the tasting and bottle prices much higher than in the Sonoma/Russian River valley, but they weren't nearly as good.  In fact, in three days worth of leisurely tasting (meaning about 3-4 wineries a day), we only found two that we liked.
We really enjoyed a Voignier at Melville and picked up a bottle to bring back home.  Melville actually came highly recommended to us and we in turn, would easily recommend them to others.  Nice tasting room.  Relaxed staff that talks to you about the wines you're drinking.  And a lovely picnic area out back (where we enjoyed some of Trader Joe's finest lunching goods).
The other winery we loved (and I do mean LOVED) was Lafond Winery in the Santa Rita hills. I'm not really a fan of Pinto Noirs and well, let's face it, this part of California is kinda known for their Pinots.  That said, they had a Pinot here I was in head over heels in love with.  As the lady pouring explained, the Santa Rita hills don't get nearly as much rain as other wine growing areas so the grapes don't get quite as plump.  This means that according to my uneducated palette, the wine doesn't taste a "watered down."
But really, we loved this place so much we wanted to take a bottle of everything to go.  We didn't.  But only because we're planning to join their wine club in a couple of months.  Until then, we'll just live on memories and do what we can to track down their wares locally.
The only other thing we really did on our trip (aside from try to go to the movies – they weren't playing anything we wanted to see), was eat out a couple of times.
In Los Olivos we hit up a couple of tasting rooms (again, nothing to write home about) and at the recommendation of some locals (and marathon participants) decided to eat dinner at the Los Olivos Cafe & Wine Merchant. We were too late for more wine tasting at the bar (or happy hour, as they called it).  So we sat outside for dinner.  All I can say is 1) that bread and olive oil is AWESOME and 2) more people should cook with goat cheese.  Yum!
Then our last night there, we decided to try the famed Santa Maria BBQ. We did a little research and decided to follow the truckers and headed to Pappy's to share a BBQ tri-tip plate.  Wow, I can see why the Santa Maria tri-tip is so beloved.  What makes it so special? Basically it's tri-tip that's covered in a mixture of salt, pepper, and garlic salt and grilled over a fire using red oak from the California coast. Anyway you cut it, it's good stuff.
Funny enough, I saw the other day that in the semi-prepared foods section of Costco that they sell a packaged Santa Maria tri-tip.  So I guess it's more legendary than I even knew.
In the end, we may not have accomplished much this trip.  We never even got around to taking pictures of anything.  But it was exactly what this couple needed – especially for the workaholic husband going through some job transitioning.  I loved that for most of the trip we were in and out of cell range.  Better yet, I loved that he actually kept his work phone turned off the entire trip.  It was just the sort of laid back, low stress, relaxing sort of weekend away we needed.