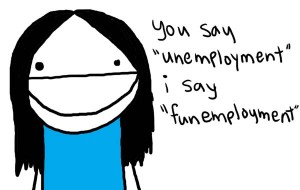 I know I haven't been around here much these past couple weeks, but we've had quite a bit going on.  You see, we've been gearing up for the big layoff.  We knew it was coming, and to be honest, we are quite excited about it.
And now it's official. My husband is officially a socio-economic statistic.
Well, technically, it was official last Monday, but I was too busy running errands to say much about it.
Now both of us are working from home.  Although for the past week, I basically spent most of my time trying to get things in order.  I figure with the temperatures about to be on the rise and the hubs now working from home, I needed squeeze in one super good cleaning and do as much laundry as possible (still have sheets & blankets to do…hate the laundromat!).
On top of the basic household chores, I've been doing some shopping. I mean, FSA funds are use it or lose it, so you better believe we were using it!  That's a lot of doctor appointments to squeeze into two weeks.  So I also spent a little time on Drugstore.com in their FSA store.  Did you know that condoms and athlete's foot treatment qualify for spending down those FSA dollars? Who knew.
Not to worry though. He knew it was coming (they all knew it was coming).  His next project launches tonight!!  Woohoo!
And presently (or at least until I'm done teaching this semester), my primary goal is to come up with lunch and dinner menus.  We figure we spent a good chunk of our money eating out (together for dinners or alone for lunches), so the quickest and easiest way for us to save some cash from the getgo is to cook at home.
Now if only I knew what to cook.  Or how to plan a menu.
Any suggestions?  What's your favorite at home, lunch item?  What about dinner – what sort of easy recipes do you fall back on?
In particular…any killer ideas for leftover rotisserie chicken (we tend to eat a lot of rotisserie chicken here…especially when the triple digit days come and it's just too crazy hot to even boil water).
In the meantime, I'm sure things will be getting pretty interesting at Casa de LA Blogger Gal…two of us, working from home, all day, with a dog that barks at anything in a two bedroom apartment that in mere days will surely be 85 degrees WITH the air conditioning running.  Oh  yeah, it should be fun.