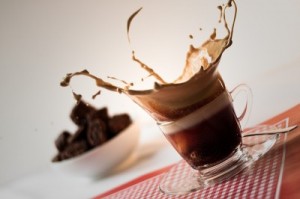 While I'm not an addict by any means, I do enjoy a good cup of coffee.  Even better when I'm able to toast to a fun national holiday like National Coffee Day.
In the spirit of this fantastic national holiday, many local and national coffee shops are giving away free and selling discounted coffee. Participating Dunkin Donuts are offering a free cup of coffee and they're donating a portion of their sales to Special Olympics.
While I hear great things about Dunkin' Donuts coffee, sadly, we don't have any here in the greater LA area, so I opted to celebrate by enjoying an iced coffee at my local McDonald's (no, it wasn't free, but it was yummy!)
For more coffee antics, check out the Facebook event dedicated to the day.  And if you can't make it out in this heat for a cup of joe, try brewing your own cold-brewed iced coffee – it takes a good 24 hours for great brew, but so very worth it!
What's your favorite thing about coffee?