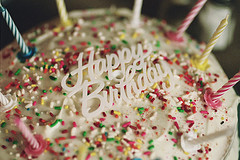 Things are progressing along nicely in LA Blogger Gal's 40th Birthday Extravaganza planning. I do believe I've settled on a location.  With luck, we'll be outside in this amazing garden setting, chowing down on Greek food (my fave!).  A friend of mine recommended the location from a place where she's eaten before.  And since she's held staff meetings there, she also knew they could accommodate groups.
I'm still not crazy about the corkage fee, but with luck, I can use this recession in my favor and negotiate her down.  Worse case, we just provide champagne instead of wine and champagne.  In turn, we'll provide some appetizers as well.  It should be fun.
I need that headcount though so I can either order my cake (mmmm….Porto's cakes, c'est ci bon!) or go with cupcakes (mmm…those strawberry lemonade cupcakes from Layers Cupcakes – but ohhhhh, the price).  Cupcakes totally rock, and don't require any cutting, but man, they're a small fortune compared to just getting a cake.  And let me just say, that Chocolate Grand Marnier sounds incredible.
And now, after poking around Porto's website, I'm jonesin' for a potato ball.  Guess where I'll be going later today?
And of course in the midst of all my party planning, I was called out by and out-of-town friend that reads my blog for not inviting her.  Seems I was so focused on my local friends and getting things moving, that I didn't get around to inviting those that I knew wouldn't come, but would still want to be invited.  Same thing goes for the in-laws.  I still need to invite them even though I know they won't come.
I never can really think of things that I want for my birthday (for some reason, I guess because we pick names and do lists I can for Christmas).  Then again, it doesn't help that from the hub's I'll be getting my party (no other gifts there) and from my closest friend back in NM, money is tight.  So if someone where to ask me what I want, all I'd really be able to suggest is that dry cleaning/garment bag at Delight (wow, they really do need to work on their site – that "share this" post didn't even share a link or photo, or description), a whisk, a digital frame and my new white dream purse (which is apparently others' dream purse as well since Zappos is running low). Ooh, and I think I'd like this book…The Think Big Manifesto: Think You Can't Change Your Life (and the World) Think Again.
Okay, off to sit down with the hubs over a bowl of oatmeal.  Love lazy Sundays.
PS – Speaking of birthday celebrations…Happy Birthday Ju-Ju Coop!