Then how about a salted caramel milkshake?
"Milk is not only a healthy beverage, it's also the basis for many fun drinks like milkshakes. Drinking a milkshake brings out the kid in everyone, but each flavor highlights a person's personality." ~ Chef Mariah Swan
You know, there's just something bliss-like about attending a party with milkshake shooters being passed around the room. Not just any milkshake shooters either. Now, these shakes were the creation of LA hot spot eatery, BLD's Pastry Chef Mariah Swan (as where the passed pastries – lemon bars, magic bars and strawberry shortcake cookie concoctions) and the Got Milk? team.
My favorite by far was the Salted Caramel shake (recipe below) followed closely by the Caramel Tequila shake (sadly, no recipe was provided). To be honest, half of them didn't sound all that enticing to us so we didn't get around to trying all of them. But the ones we did try were quite good.
This really was heaven in a frosty glass. But believe it or not, there truly is such a thing as too many milkshakes – even if they're only in shooter-sized glasses.
There were quite a few different flavors getting passed around – Blueberry Malt; Frozen Mexican Chocolate; Orange Dreamsicle; High School Musical's Monique Coleman creation, Cookie Jar Milkshake; an oddly delicious, peanut butter cheesecake and so much more. We noticed at least eight or more frozen temptations going on around the room.
If you'd like to try out some of the recipes from the event (sadly, the caramel tequila recipe isn't available but you better believe I'm doing what I can to track down this recipe), you can find them here (along with many other yummy milky concoctions).
And did I mention that there were also tarot readers there? Seriously, milk shakes, pastries and tarot readers.  What a fun event!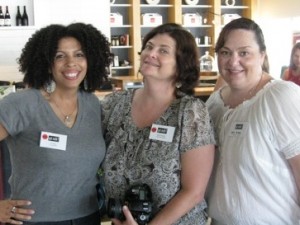 It was also great to socialize with other bloggers, such as Liz at Los Angelista, Sally at Any Given Sundry (who has to have one of the coolest and most fascinating jobs out there and is great photographer) and the big winner of the evening, Liz from Thoughts of a Mommy (a relatively new blogger to the scene).
To get you through the rest of summer season, here's the recipe for their amazing Salted Caramel Milkshake:
1 pint vanilla ice cream
1/4 cup caramel sauce
1/2 cup milk
1 tbs salt
Combine all ingredients and blend. Divide between two glasses and top with whipped cream, a drizzle of caramel sauce and enjoy!
You know what they say…milk, it does a body good 😉