Who wants a free Micro-Zone treatment at Dermalogica on Thursday, March 11th in Santa Monica? I know I do!
When I was invited to the reopening of the Santa Monica Dermalogica last October, I really didn't know what to expect.  That said, I've been back three times since.
I love, love, love their Micro-Zone treatments.  It's a quickie (twenty minute) facial targeting just what you need to target.  For me that used to be acne and extractions.  For my girlfriend, it was this amazing, super-sensitive, cooling treatment that did something amazing to the redness that her face is prone to.  They have specific treatments or you can just let the ladies that work there work their magic.
This time around, the Dermalogica gang are uniting with Clarisonic to get rid of the pollution that you mucks up your complexion here in LA. I have heard some amazing things about the Clarisonic and you know I love me some Dermalogic (if you haven't yet tried it, be sure to pick up their Soothing Eye Make-Up Remover).
Lucky you, they let me invite you all!!  Just RSVP to to [email protected] and I hope to see you there*!
Dermalogica Spa
1022 Montana Ave
Santa Monica, CA 90403
(310) 260-8682
dermalogicaonmontana.com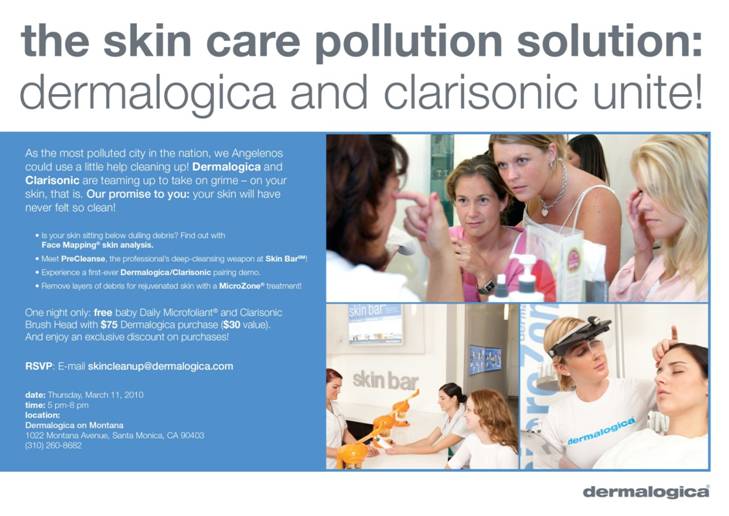 PS – I know the image muddles on over into my sidebar there, but I wanted to make sure you had all the info to participate, so I kept it large. I'm sure you'll forgive me 😉
*I'm not 100% certain that I'll be able t attend this time around as I'm hosting a networking dinner in Woodland Hills later that night and well, I'm just not sure an hour to get from Santa Monica to Woodland Hills in the middle of rush hour is just possible.