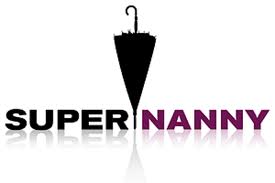 Seems they're in the process of relaunching the hit television show, SUPERNANNY.  This time they plan to go with a with a new American born & bred nanny.  And in the meantime, when they fly the finalists out to LA they're looking for several local Los Angeles families who would be willing to put these potential nannies to the test.  You know, give them your toughest, brattiest, most challenging, problematic kids and problems.
Rest assured, all the women up for the role will first go through intensive interviews and then a select few will have to prove their skills by interacting with children and their parents at home.  These tests will be taped, but they will only be used for viewing by the network and will not be aired.
The 'Test Family' Basics:
The families will be on stand by and confirmed the day before the shoot.
The families will be compensated $300 for up to 3 hours of their time, but we don't anticipate being there more than 2 hours.
Families are needed on 8/31, 9/1, 9/6 and 9/7, but they will only shoot on one of the dates.
Families should have at least 2 children in the home and would like the advice of a professional to address a few behavioral issues the parents are concerned about such as potty training, tantrums, pre-teen and teen attitude, etc.
If you are a parent who is frustrated with an issue – it's an issue for this parenting expert.
Of course, they know that your response is, "What? Up to 3 hours is all I get?  I need a week!"  and they invite all parents to apply for the full help of Supernanny!!!!
If you're interested in being considered as a SuperNanny Test Family, please call Courtney Marino at (323) 904-4680 and let her know you are interested in the possibility of being a test family.
Best of luck!!